Tramway Karlsruhe Nordstadt/Heide
Client: Verkehrsbetriebe Karlsruhe (VBK)
End: 2005
The 3.1 km long new section runs from the stop Mühlburger Tor in the west of the Karlsruhe inner city towards the north up to the ice skating hall in Neureut-Heide. A later extension of the line in the direction of Neureut-Kirchfeld is foreseen. The reversing loop has been already prepared for this.

The complete section will be double track and build on special "lanes" which are integrated into the local conditions but make the tramway independent from traffic.

In light of the current plans for this corridor, significant changes would have to be realised in the infrastructure present especially the layout of streets and intersections.

The assignment also included the coordination of all cable relaying and wiring.
Downlooad E-1320 KA-Nordstadt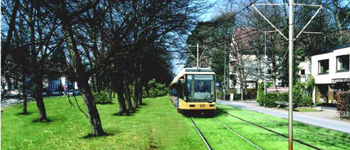 Planning of a tramway route from the Karlsruhe inner city into the north "Nordstadt"